The Grizzly EPS SE defines beauty and beast in one all-capable package. Offering renowned terrainability, the Grizzly EPS SE adds a factory installed WARN® winch, sleek special edition colours and graphics and Maxxis Zilla® tires to the Grizzly family. This makes for the perfect machine for the riders who enjoy unmatched power to performance while still managing to turn the heads of any bystanders.
HIGHLIGHTS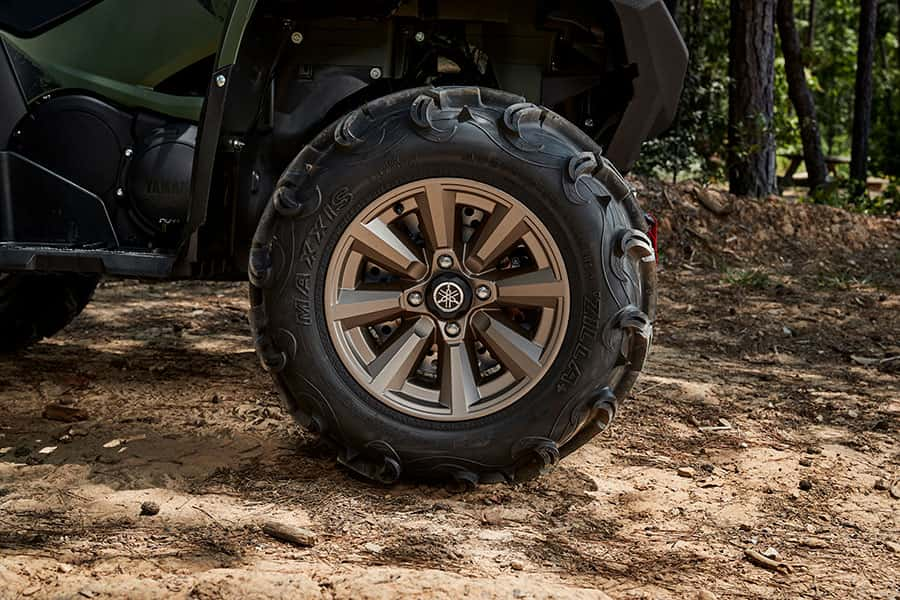 TERRAINABILITY
Factory installed WARN® winch
Special Edition model takes trail performance to the next level with stylish and functional alloy rims
Oversized 27-inch Maxxis® Zilla® tires with dual-compound sidewalls and large aluminum rims constructed to handle anything you throw at them
POWER
Big-bore engine designed for aggressive trail riding
Grizzly EPS SE bring even more riding excitement without losing an ounce of comfort
Smooth-running 700-class engine with improved midrange power.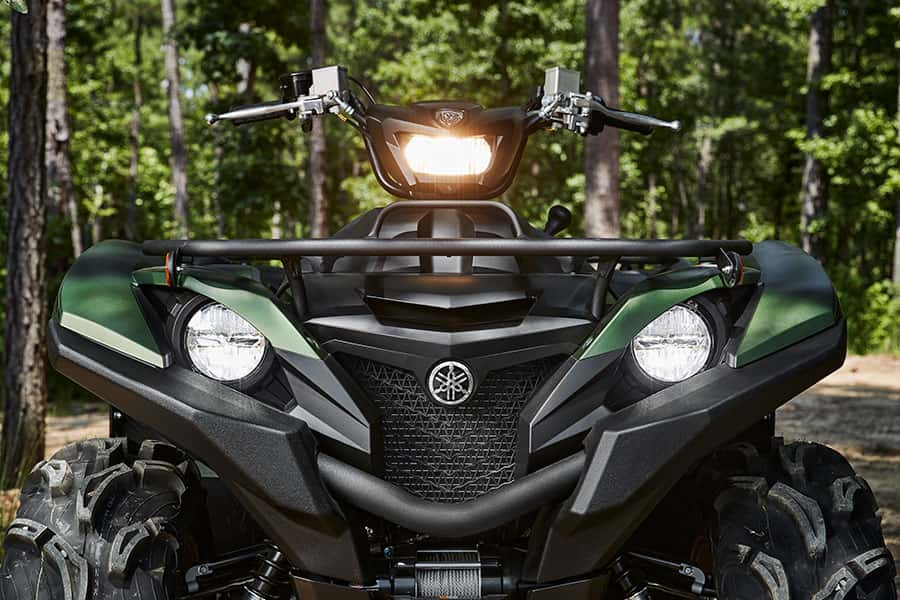 DESIGN
Aggressive and durable styling
Rugged composite front bumper resists scratching and rust
Injection-molded fenders and CV joint guards protect against rocks and debris damage
Features & Benefits

Key Features
- Electric starting.
- Big Bore Engine Designed for Aggressive Trail Riding
- High-Performance Ultramatic® Transmission
- Exclusive On-Command® 4WD
- Class-leading Electric Power Steering
- High-Mounted Air Intake
Key differences between Grizzly 700 EPS & Grizzly 700 EPS SE:
Oversized Aluminum alloy wheels
Special Edition paint & graphics
Factory installed WARN® winch
27-inch Maxxis® Zilla® tires
ENGINE
Electric starting.

includes auto decompression system for fast, easy starts

Big Bore Engine Designed for Aggressive Trail Riding

For the trail rider looking for excitement in every ride with ideal balance of 700-class big bore power and strong midrange that gives immediate response
Rebuilt for 2019, the Grizzly EPS brings even more riding excitement without losing an ounce of comfort thanks to redesigned engine mounts
More useable power throughout rev range

High-Performance Ultramatic® Transmission

Class-leading transmission combine immediate response with advanced features like all-wheel engine braking
Proven to be the most durable ATV transmission on the market
Dual range, high- low transmission with reverse
High mounted belt cooling ducts help prevent water ingestion

Exclusive On-Command® 4WD

Keeps rider in charge with selectable 2WD, 4WD and 4WD limited-slip and 4WD with diff. lock modes
Delivers power consistently as required

Class-leading Electric Power Steering

Provides industry's best balance of steering assist and positive feedback from trail, with light steering, speed-sensitive steering response and minimal fatigue

High-Mounted Air Intake

Tackle mud and water thanks to the Grizzly's high-mounted air intake layout
Increases power and torque while providing additional room for on-board storage
Easy, tool-less servicing of the foam air filter

Stainless Steel Exhaust

To maintain clean-running performance the Grizzly EPS uses a stainless steel exhaust system
Features screen-type spark arrestor for greater power with minimum noise output

High capacity Radiator

Slow-speed, technical riding can bring added stress and heat, so the Grizzly EPS has a high-capacity radiator with fan assist
Delivers plenty of air flow for maximum cooling efficiency
Positioned high in the frame for optimal protection
CHASSIS
Rugged steel type frame.

compact design provides nimble, responsive handling
under seat fuel tank reduces centre of gravity for light, nimble handling

27 inch SE Tire Package

For deep mud, scree slopes and any other poor traction terrain, the Grizzly EPS SE comes ready to climb
Big 27 inch Maxxis® Zilla® tires mounted on strong, lightweight alloy rims
Uses dual-compound sidewalls and an extra-tough carcass construction to handle anything you can throw at them

Aggressive and Durable Styling

Rugged composite front bumper resists scratching and rust
Injection-molded fenders and CV joint guards protect again rock and debris

Independent Double Wishbone Front and Rear Suspension

7.6 inches of front wheel travel / 9.1 inches of rear travel
Provide excellent rider comfort even on the toughest trails
Nitrogen-charged shocks with 5-way adjustable preload

Generous Ground Clearance

To handle any terrain, the Grizzly EPS offers impressive 11.8 inches of maximum ground clearance
Full-length composite skid plates provide protection against rock and debris damage

Underseat Fuel Tank

Optimized 4.76 gallon fuel tank is located under the seat for excellent mass centralization and handling

LED Headlights and Taillights

Uses less power and creates a brighter, sharper illumination
Offers maintainance free durability
Handlebar-mounted halogen work light provides additional lighting that moves with rider input for excellent visibility

Four-Wheel Hydraulic Disc Brakes

Powerful and consistent braking come standard on every Grizzly EPS model thanks to four-wheel hydraulic disc brakes
Unmatched braking feel

Rugged & roomy floorboards.

excellent rider foot protection
helps reduce keep mud & water splash hitting rider

Work-Ready Tow Capacity

Center-mounted, heavy duty two-inch receiver comes standard on Grizzly
Capable to tow more than 1300 pound