HIGHLIGHTS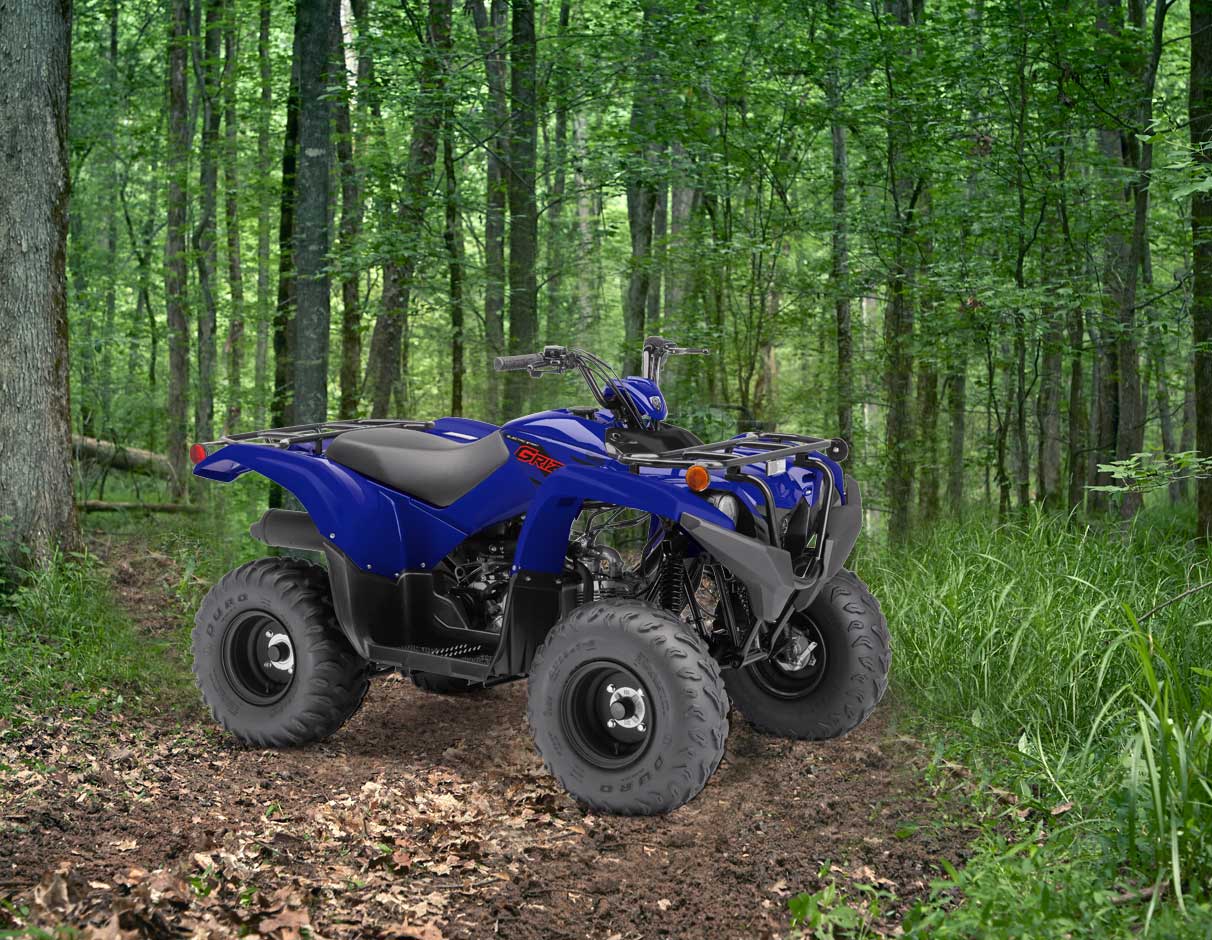 Conquer Dirt
Yamaha offers the Grizzly 90 for younger riders looking to explore off-road alongside family and friends. With convenient features like electric-start, a large comfortable seat, front and rear racks and aggressive Grizzly styling, the Grizzly 90 is a perfect machine for young riders who want to start a new off-road adventure.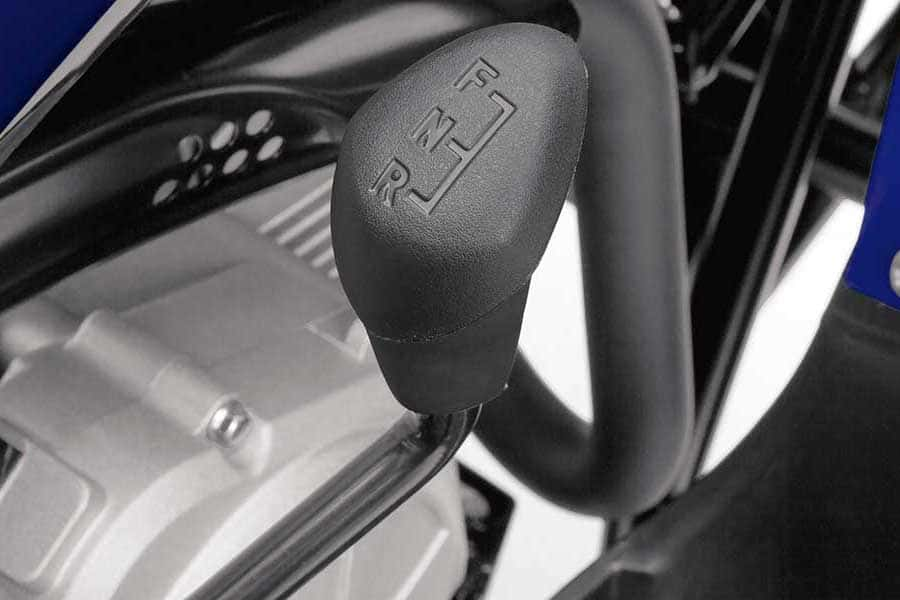 CONFIDENCE-INSPIRING 90cc ENGINE
Built to bring maximum fun to youth ATV riders through a low-maintenance 90cc engine.
Tuned to develop excellent low-to-mid range performance.
Features fully automatic CVT transmission with reverse, gated shifter and electric start with a back-up kickstart.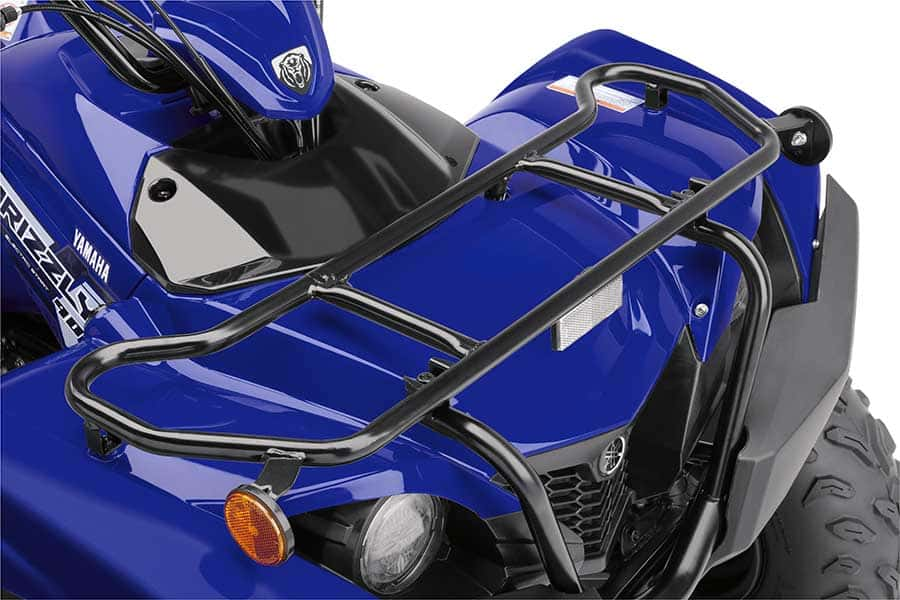 SCALED DOWN, NOT SCALED BACK
The Grizzly 90 takes cues from the top-performing big bore Grizzly but is designed specifically for younger riders getting into the sport.
Accessible, confidence-inspiring performance with Grizzly family style.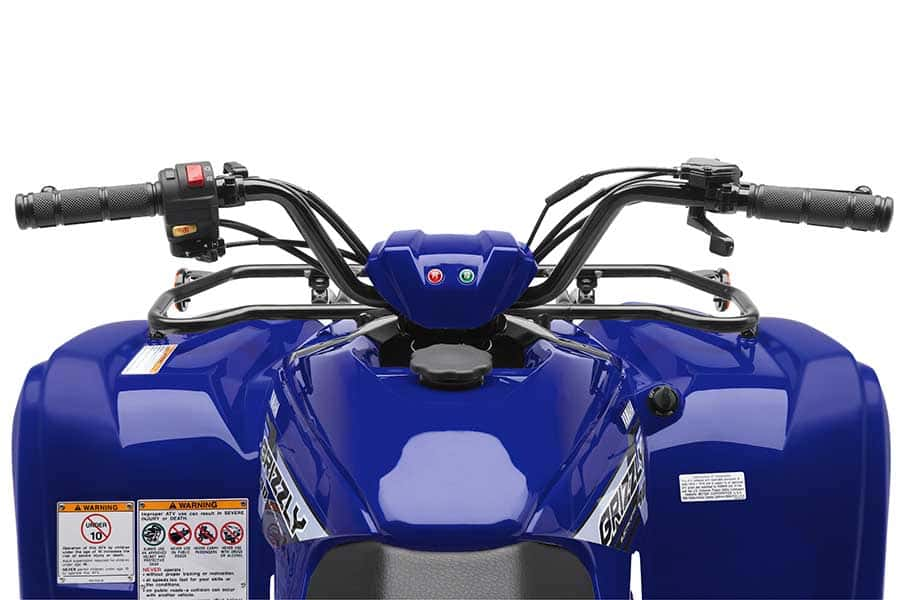 COMFORTABLE CHASSIS
Ergonomics are designed to fit a wide range of riders 10 years and up.
The Grizzly 90's tire and suspension package is designed to find traction and provide a comfortable ride in a wide variety of terrain.
Features & BENEFITS
Engine
Robust 90cc Engine

90cc four-stroke SOHC engine
Tuned for excellent low-to-mid range performance
Air-cooled for simplicity, performance and long service life
Proven wet-sump lubrication

Push-button electric starting backed up by an auxiliary kick starter.

Electric starting makes learning to ride more fun

Automatic Transmission

Fully automatic, continuously variable transmission (CVT) means no shifting.
Handy and something younger riders will appreciate.
Standard reverse simplifies maneuvering the Grizzly 90 in tight spots

Compact and Durable Drivetrain

Engine power is transferred to the rear wheels via a tried-and-true O-ring chain
Optimized angle for superior rear shock performance

Modern, Reliable Electronics

The CDI system means reliable ignition performance and a sealed, maintenance-free battery helps to provide worry-free performance
Handlebar-mounted reverse and neutral indicators keep the rider informed in all situations

Spark arrestor equipped exhaust system.

Quiet design
"Cleanable" spark arrestor prevents stray sparks from exiting the exhaust
Heat shield protects young riders from hot components
Adventure-Ready Chassis

Compact A-arm front suspension is tuned for light steering and comfortable ride quality offering 5" of travel.
Swingarm setup in the rear brings with it 5.7" of wheel travel, adding to the Grizzly 90's full-size look and feel.

Integrated Cargo Racks

Robust steel cargo racks front and rear both boast 11 lb. carrying capacity
Provide younger riders the ability to pack their own gear as they join the family on their next adventure

Renowned Grizzly Traction

Equipped with rugged, trail rated tires, the grizzly 90 is ready to go anywhere
19" up front and 18" in the rear.
Maximize traction on a wide variety of terrain.

Big, Mud-Deflecting Fenders

The Grizzly 90 boasts full-coverage fenders just like its Grizzly sibling.
Enhances styling and protection for the ride from mud and trail debris.

Comfortable Accommodations

The Grizzly 90 is designed to be comfortable for a wide variety of riders aged 10 years or older
Keyed ignition lets parents control use
Heat shields on exhaust protect young riders from hot components
Adjustable speed limiter screw on throttle housing restricts throttle lever movement to reduce acceleration & top speed.
2-stage rpm limiter device limits engine rpm. As skills improve, the limiter can be removed & maximum engine rpm will increase from 4,900 rpm to 8,500 rpm making a significant difference in power & performance.